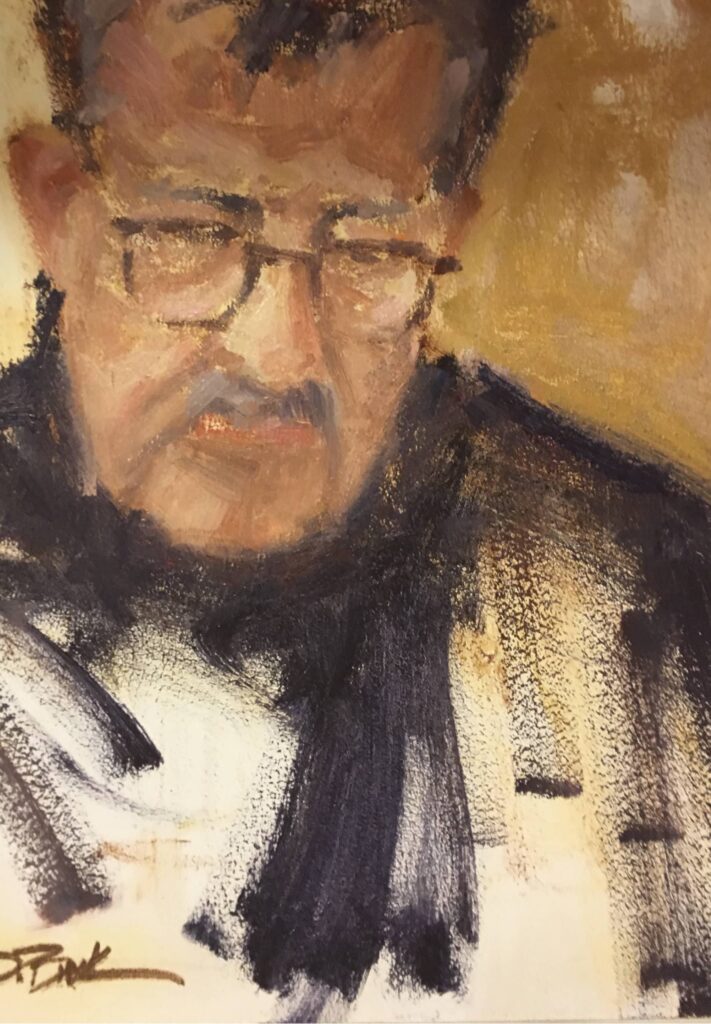 Henry Leck – Artist Bio
An internationally recognized choral director, Henry Leck is a professor emeritus in choral music at Butler University, where he served on the faculty for 27 years. He is the Founder and Conductor Laureate of the Indianapolis Children's Choir where he served for 30 years. He is still an active conductor, traveling frequently to podiums throughout the world.
Founder and Conductor Laureate – Indianapolis Children's Choir
Professor Emeritus – Choral Music – Butler University
Artistic Director – Music for All – Choral
Upon retirement from Butler University and the Indianapolis Children's Choir, Henry and his wife Meredith moved to Bloomington to be nearer to Anya Steele, one of their two daughters who teaches at Bloomington South High School, their son-in-law Aaron Steele who is an FC Tucker Realtor and two of their beloved grandchildren … Rohnan and Evelyn. The move also brought them closer to sister Glorianne (Glo) Leck and Sister-in-law (and fellow painter) Susan Savastuk. While we wish they were closer, we are very proud of our daughter Gretchen (also a teacher), son-in-law Shawn Meyer, (a firefighter) and our two grandchildren … Lilian and Emerson in Ohio.
Expression in the arts has been a passion in our entire family. And until now it has been expressed primarily through music. But since moving to Bloomington, I have been able to pursue my long dormant love of the visual arts. I have studied every semester at Ivy Tech with Michael Teague and taken many workshops from other artists such as Lawrence Rudolech, Wyatt LeGrand, Pam Newell, Michael Chesley Johnson, Patrick Saunders, Kenn Beckhaus, Troy Kilgore, John Michael Carter and Ned Mueller. But the most amount of professional growth has come from my association with fellow Bloomington artists. I am an active member of the Upland Plein Air,the Indiana Plein Air Painters Association and the Bloomington Watercolor Society. I also have taken advantage of regular portrait group paintings and live model sessions at Indiana University.
What began as a hobby of artistic expression has become a passion. I love to paint realistically, but am growing as an impressionistic landscape artist.
Mr. Leck has received many honors including the Sagamore of the Wabash and the State of Indiana Distinguished Hoosier Award. He and the choir received the Indiana Governor's Arts Award, which is the highest honor one can receive in the arts in Indiana. Recently Mr. Leck was named a recipient of the Lowell Mason Fellows Award which is the highest award given, by the National Association for Music Education. He was named Outstanding Hoosier Musician in 2016 by IMEA. He is a recipient of the NUVO Lifetime Achievement Award and the Indiana Historical Society Indiana Living Legend Award. He recently was awarded the Distinguished Service Award from Chorus America.